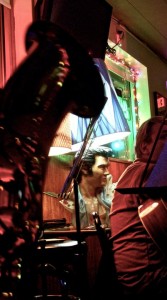 Trepanning Trio has been invited to play the June 19, 2012 Classical Revolution event at the Happy Dog in Cleveland, Ohio.
Classical Revolution Cleveland started its chapter in 2009. The mission of Classical Revolution Cleveland is to present chamber music performances in highly accessible venues, such as bars and cafes, and collaborating with local musicians and artists from various styles and backgrounds.
The musicians who play in Classical Revolution come from a variety of backgrounds. Most are recent graduates or current students from the nation's best conservatories. We push the others who are accomplished non-professional musicians that use Classical Revolution as an outlet to maintain their musical life while working non-musical jobs. This inter-relation between professional and non-professional musicians is a fundamental part of our organization: dissolving boundaries that result from the specialization of musicians and bringing people, both audience and performers, together.
By taking chamber music out of the recital hall and making it more accessible to an audience who does not otherwise hear such music in a live context, we hope to bring to a broader public consciousness the realization that this music is still relevant and needn't be restricted to more austere venues.
Trepanning Trio will be represented by the following musicians at this event:
Brad Bolton: Guitar, Ukulele, Animal Calls
Chris Auerbach-Brown: Alto Saxophone, Saw and Melodica
Courtney Lambert: Glockenspiel, Percussion
Dan Wenninger: Tenor Saxophone
Dariush Saghafi: Violin
David Badagnani: English Horn, Oboe, Fiddle, Yueqin
David Mansbach: Double Bass, Acoustic Guitar, Zhongruan
Kathryn Metz: Flute, Pan Tree
Kris Morron: Trombone, Guzheng
Peggy Latkovich: Piano, Banjo, Accordion, Hang