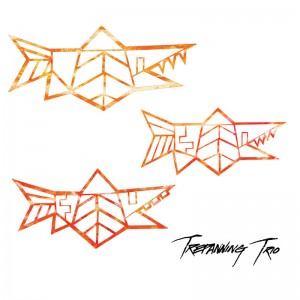 Lakewood, OH – Trepanning Trio, Cleveland's acclaimed, instrumental avant-chamber ensemble, will showcase their newest album, Auspicious Threes, at a unique release party Saturday, November 17 at 7:30 pm in the Music-Armory Building of the Beck Center for the Arts.
Trepanning Trio harvests a mesmerizing all-instrumental sound by performing and recording using only classical, traditional and handmade instruments (i.e. viola da gamba, guzheng, pan lids screwed onto sticks and played with violin bows, etc). Modern technology has allowed Trepanning Trio to include nearly two dozens members from not just the Greater Cleveland area, but from all over the country. And while most of those musicians are classically trained, many, especially those who perform with hand-crafted, singularly unusual instruments, are autodidacts.
The third album in their canon, Auspicious Threes, is the culmination of EIGHTEEN skilled musicians with FORTY-SEVEN classical, traditional and handmade instruments composing and recording ELEVEN songs over a period FORTY-THREE months. The results retain much of the compelling classical and jazz-tinged compositional sense which made Trepanning Trio's first two releases so noteworthy, however, Auspicious Threes delivers a thoughtful exploration of folk-like themes earlier releases merely touched upon. The resulting music is simpler, warm and hummable.
"Auspicious Threes is more personal and introspective than our previous releases," said Trepanning Trio composer and bandleader David Mansbach of their newest release.  "We're excited to perform at the Beck Center again.  We were fortunate enough to be a part of Kris "skinnyk" Morron's Cloudlands release show at the Beck Center last February.  The Music-Armory Building is the ideal performance space for Trepanning Trio.  It's small and secluded enough to enable us to create an intimate atmosphere for the audience, yet large enough to accommodate a 12-piece ensemble with a grand piano and full marimba."
Mansbach says that even those who have seen Trepanning Trio perform previously will be in for a treat at the November 17 event. Not only will a 12-piece ensemble version of Trepanning Trio be in effect, a live edited visual backdrop will be provided by San Francisco-based video artist, Brent Gummow.  Solo performances by Peggy Latkovich (piano), Courtney Lambert (marimba), and several duos and trios comprised of Trepanning Trio members will also be featured.  Additionally, a complimentary, full-length copy of Auspicious Threes will be supplied for each paid admission.
Admission to Trepanning Trio's November 17 release party is $10.00 for adults, which includes one "Auspicious Threes" CD.  Free admission for people 18 and under. Beck Center is located at 17801 Detroit Avenue in Lakewood. Free onsite parking is available. For more information, call 216-521-2540 ext 37.
Auspicious Threes is 33rd music release by Cleveland-based Infinite Number of Sounds Recording Company.  For additional information on Trepanning Trio's "Auspicious Threes", or Infinite Number of Sounds Recording Company, please contact David Mansbach (david@infinitenumber.com) or visit www.trepanningtrio.com or www.infinitenumberofsounds.com.