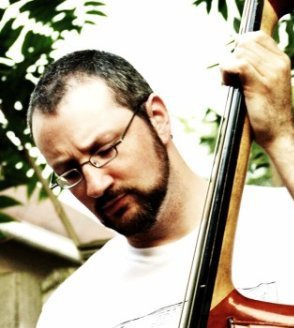 David Mansbach is an American composer, musician, record producer and award winning visual artist.  He has written music for and performed with Trepanning Trio, To Box With Man, Ribcage Houdinis, and the electro-rock/media-art performance group Infinite Number of Sounds. He has also performed with the Cleveland Chinese Music Ensemble (克里夫蘭民族樂團), Oblique Orchestra, Throne of the Seated Three and the Freedom Jazz Collective.  In 2000, he co-founded Infinite Number of Sounds Recording Company.
His clients have included RCA, Discovery Channel, NASA, Energizer, Cleveland Museum of Art, Cleveland Museum of Contemporary Art, Toledo Museum of Art, Akron Art Museum, COSI, Case Western Reserve University, North by Northeast (NXNE), Midwest Music Summit, Ingenuity Festival, Black Swamp Arts Fest, ORANJE Art & Music Exposition, Antaeus Dance, the 48 Hour Film Project.
David loves his girl Danielle, their son Benjamin, music, animals, drawing, photography, clay, painting and listening to audio books. He is a proud Clevelander, an Eagle Scout, a Cavaliers Fan, and a cheerleader for the creative community.
---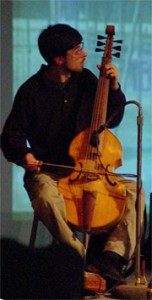 David Badagnani holds degrees from Florida State University and Kent State University (in Kent, Ohio, USA), where he is currently a faculty member and Ph.D. candidate in ethnomusicology and musicology. He serves as archivist for the Egyptian-born U.S. composer Halim El-Dabh, and is writing his doctoral dissertation about the intersection between ethnomusicology and contemporary music in El-Dabh's works.
Since 2000 he has assisted El-Dabh in organizing performances of his music around the world, and performed El-Dabh's music in Alexandria, Egypt in March 2002 for the inauguration of the newly reconstructed Bibliotheca Alexandrina (Library of Alexandria). Badagnani's other musical research focuses primarily on intercultural musical collaboration, global rap music, and new music for early instruments, and his articles have been published most recently in Early Music America and The Continuum Encyclopedia of Popular Music of the World. Since 2004 he has assisted in the building of the archive of the Alan Hovhaness Research Centre in Yerevan, Armenia, dedicated to the late American composer Alan Hovhaness (1911-2000).
As a musician, Badagnani specializes in new and improvised music for english horn and oboe, as well as a variety of wind, string, and percussion instruments from China, Vietnam, and Thailand (including the Chinese sheng, suona, houguan, xun, sanxian, yueqin, and yehu; the Vietnamese kèn; and the Thai jakhe). He is a founding member of the experimental intercultural ensemble Pointless Orchestra, collaborating frequently with dancers, painters, poets, and filmmakers in multimedia performance events.
He also performs regularly with the Phong Nguyen Vietnamese Ensemble, as well as with Thai, Chinese, African, Irish, American old-time, and Australian traditional music groups. In 1998 he toured Thailand with Kent State University's Thai Ensemble (the first foreign ensemble to perform Thai classical music there), and in 2003 was invited by Yo-Yo Ma's Silk Road Project to play kèn in the premiere of a new cross-cultural work by Vietnamese composer Tran Thi Kim Ngoc. He has performed with Jin Hi Kim, Joseph Celli, Richard Teitelbaum, George Lewis, Wadada Leo Smith, Phong Nguyen, and Halim El-Dabh, and has recorded for the Without Fear, Manifold, Pointless Music, Yucca Tree, Uphrania, Scattershot, and SRCA labels.
Website: http://www.personal.kent.edu/~dbadagna/
---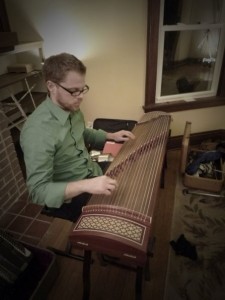 Kris "skinnyk" Morron explores his passion for music by performing, composing, arranging, educating, and recording. This passion for music was instilled in him by his mother at an early age and has continued to grow ever since. Kris has performed with a wide range of local and internationally known musicians and groups.
The list of Cleveland based groups he has performed with includes Swank Motel, Rhesus Amok, The Aphrodesiatics (2004 Cleveland Free Times "Best Hip-Hop/R&B/Funk" category winners), SAFMOD, Mifuné (2007 & 2008 Cleveland Free Times "Best Ethnic/World" category winners), Revolution Brass Band, and the Buster Backfat Orchestra. Kris has been nominated in the "Best Horn" category by the Cleveland Free Times readers in 2007 and 2008. He has written arrangements for the nationally recognized group, the Lakewood Project and is continually pursuing his dream of writing music for film. Kris has also had the pleasure to record with Mifuné, Replife, Lounge Kitty, and the Trepanning Trio.
In addition to all of his performing and writing, Kris is also an educator. He was the assistant band director at Valley Forge High School from 2004-2006 and became the head band director during the 2006-2007 school year.
---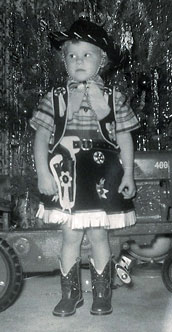 Peggy Latkovich has been playing in folk dance bands around the Cleveland area for many years. She's a member of Toad in the Hole and Transylvania Busker's Association, and was a member (with Bob Drake) of Frumious Bandersnatch for 10 years.  She has a Master's in Ethnomusicology from Kent State University and is a freelance music journalist, contributing regularly to the Cleveland Scene, Dirty Linen, and Rootsworld,com.  She lives in the Cleveland area with her kind-hearted spouse and cheerful mutt Matilda. She's the mother of two ridiculously creative young men who inspire her daily.
---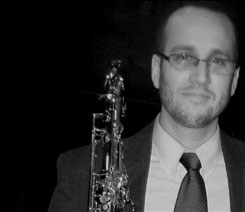 Tom Lempner (woodwinds) earned music degrees at both Baldwin-Wallace Conservatory of Music and Kent State University while under direction of Greg Banaszak, Chas Baker, and Dwight Oltman. He also earned a diploma from the Armed Forces School of Music, Little Creek, VA. Tom currently serves on the music faculty at Western Reserve Academy and is a Music Therapist for PEP schools in Cleveland. He also performs with Transportation Boulevard Jazz Quintet, Cleveland Winds, S & L Duo, Burning River Trio, Dan Zola Swing Big Band, and NTSQ (Neo-Tessares Saxophone Quartet). He is blessed with a wife and two children.
Website: www.myspace.com/tomlempner
---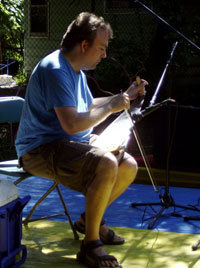 Christopher Auerbach-Brown received his BM in Composition from Ithaca College where his major teachers were Dana Wilson and Gregory Woodward. He went on to complete his MM in Composition at the Cleveland Institute of Music, studying with Donald Erb.
His String Quartet was also premiered by the Cavani Quartet at Weill Hall in December of 1997. In 1998 Mr. Auerbach-Brown was the recipient of a Charles Ives Scholarship given by the American Academy of Arts and Letters to "composition students of great promise."
In the Cleveland area, Mr. Auerbach-Brown is active as an educator, teaching music theory and composition at the Cleveland Music School Settlement, teaching classes in the Liberal Arts department at the Cleveland Institute of Art, and instructing Electronic Music courses at Lakeland Community College. His classes at CIA focus on the connections between contemporary music and sound art with the visual arts.
Most recently, Mr. Auerbach-Brown was commissioned by the Finger Lakes Music Educators' Association to compose a work for orchestra, premiered in January 2008. His arrangements of Hasu Patel's works for sitar and orchestra have been performed by the Doctors' Orchestra of Houston (Texas), and by the Plymouth Canton Symphony (Michigan) in February and March of 2008. Additionally, he collaborated with artist Andrea Joki on an installation piece titled "Papersound," shown at SPACES gallery in April 2008. Other projects have included the commission of a work for marching band which was performed at "Parade the Circle" in Cleveland in June 2006, and a commissioned work by the Cleveland Institute of Art for their commencement ceremony in May 2005. Mr. Auerbach-Brown is a member of the Cleveland Composers' Guild and the American Composers' Alliance.
Websites:
http://www.facebook.com/chris.auerbachbrown
http://www.myspace.com/christopherauerbachbrown
Papersound
---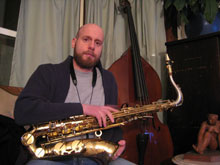 Dan Wenninger performs with the Revolution Brass Band, Buster Backfat Orchestra (improvisational horns + percussion funk), Thee Scarcity of Tanks (improvisational rock), various jazz and blues groups around Cleveland, and in the past has performed with Fuzzhead, Infinite Number of Sounds, Pureplex, and was a founding member of the Aphrodesiatics and the Freedom Jazz Collective. His current project is the Oblique Orchestra, a free jazz trio that explores spontaneous improvisation. Sometimes original compositions are the vehicle for these improvisations, other times the improvisation itself is the composition. They are the house band at the monthly 1Way All Go Signs warehouse event, an event which focuses on multi-media improvisational performances and provides an environment where these experimental works can be debuted and documented. Dan organizes the music end of this event. He holds a B.A. from the University of Toledo and an Associates degree in Jazz Studies from Cuyahoga Community College. He has studied saxophone under Ernie Krivda, Jay Miglia, and Matt James.
Websites:
http://www.myspace.com/onewayallgosigns
http://www.myspace.com/obliqueorchestramusic
---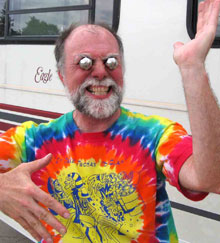 Brad Bolton has played guitar and bass with Wanda Hunt, in Cleveland and Akron jazz clubs, and shows with Helen Welch. He's been on stage with Simon and Garfunkel, the Diamonds, the Drifters, and The Ink Spots, as well as in orchestras at the Carousel, Coliseum and Front Row Theater. Widely known as the best turkey baster player west of the rising sun, he also has mastered the saw, invented and plays ghoulish sounds on the 'godbass', gets funky on his blue ukulele, and specializes in animal calls under a full moon. These days, Brad plays almost exclusively with Peggy Coyle, as Peggy and Brad.
Website: www.peggyandbrad.com
---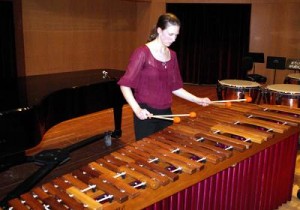 Courtney Lambert, percussionist and percussion educator, graduated from Ball State University with a degree in music education in December, 2006.  Shortly thereafter she moved to Ohio and completed her M.M. at Kent State University under the mentorship of Professor Ted Rounds.
Courtney currently serves as percussion instructor for Cuyahoga Falls City Schools, Crestwood Middle and Intermediate Schools and Revere High School.  She also maintains an active private studio, provides drumming enrichment classes for the Akron After School program, and performs around the Akron-Cleveland area.   Some recent performance opportunities have included an alumni recital at Ball State University, several solo marimba concerts around Northeast Ohio, solo and percussion ensemble performances at the Kent State University New Music Festival, marimba soloist with the Kent State University Wind Ensemble, and percussionist with the Kent/Blossom Chamber Orchestra, Stow Symphony, Cleveland Heights Chamber Orchestra, and Suburban Symphony.  During the summer of 2010 Courtney was honored to serve as a teaching artist for ArtWorks, an arts-based job training program sponsored by Young Audiences in Cleveland.
Courtney loves living in Kent with her similarly percussive significant other, Rob, their two cats, Penny and Benny, and of course their plethora of percussion toys.
---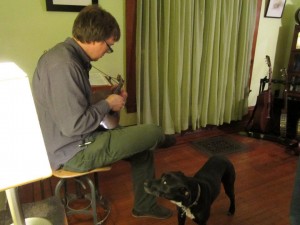 Joel Elvery plays mandolin, bass guitar, guitar, construction-derived percussion, and other small instruments and composes music that bridges jazz, funk, klezmer, and Ethiopian music. Freygish/hijaz is his favorite scale. He hails from Chicago and fondly remembers many shows by the Ken Vandermark Quartet, the NRG Ensemble, musicians affiliated with the Association for the Advancement of Creative Musicians, and No Wave bands. He has played bass since junior high and started playing mandolin in 2000 while earning his Ph.D. in Economics from the University of Maryland. He studied klezmer mandolin with Paul Oorts in Silver Spring, MD, but is largely self-taught. In addition to Trepanning Trio, he plays funky free jazz with Todd Masuda. Joel and his wife, Lynn Phares, host Mechanic Street House Concerts, an Americana/roots-rock music house concert series (www.mechanicstreetmusic.com). By day, he is an economist who specializes in data analysis and labor and urban economics.
---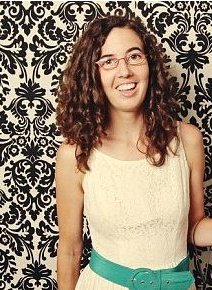 Kathryn Metz is the Education Instructor at the Rock and Roll Hall of Fame and Museum in Cleveland, OH where she teaches K-12 students on-site and through videoconferencing, co-produces public programs and is a SAGES fellow at Case Western Reserve University. Kathryn holds a Ph.D. in Ethnomusicology from The University of Texas at Austin. Her dissertation, "Music from Amazonia: Roots, Cosmopolitanism, and Regional Expression in Iquitos, Peru" (2010) is about pop music and regional identity in the urban Peruvian Amazon. A trained flutist, Kathryn has performed in bossa nova, Andean, Brazilian pop and Afro-pop groups in Austin, Texas and in salsa and cumbia bands in Iquitos, Peru. She has also played some bluegrass mandolin, was required to learn the drumset at the Rock Hall and studied some gyl in Ghana and suling in Bali. She is an active member of the Society for Ethnomusicology and the International Association for the Study of Popular Music-US. Kathryn has a chapter on tecnocumbia in an edited volume forthcoming from Duke University Press.
---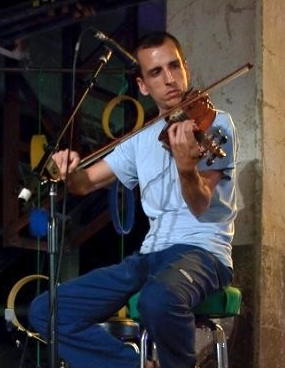 Jeff Schuler's first practice violin was a cracker jack box with a ruler taped to it. He still prefers this version.
By day and by night he is also a freelance web developer and consultant, civic tech community organizer, runner, bicyclist, yogi, and capoeirista. He credits listening as his best skill in each of these pursuits.
Website: http://www.websubstrate.com/
---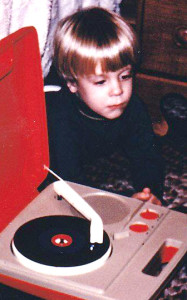 Originally from Northeast Ohio, Geoffrey Peterson attended both the Oberlin College Conservatory of Music and the Cleveland Institute of Music where he studied with Donald Erb and received his Bachelor of Music Degree in composition in 1997. He is Director of Music and the Fine Arts at John Knox Presbyterian Church in North Olmsted, Ohio.
His music has been performed throughout the United States, Canada, and Europe. Venues include the Curtis Institute of Music, the Cleveland Institute of Music, Cleveland State University, Ohio Wesleyan University, the University of Miami, Northwestern University, DePaul University, Penn State University, Temple University, the Philadelphia Music School Settlement, Swarthmore College, the Fleischer Art Memorial, the Cleveland Museum of Art, the Beck Center for the Arts, the San Salvatore Church in Prague and Duino Castle in Italy.
Recent works include: A Mighty Handful: Symphonic Portraits of the Russian Five for wind ensemble to be premiered at the Cleveland Institute of Music in 2014; Danse Diabolique for orchestra completed in 2009; Homage to Donald Erb performed by renowned French bassoonist Pascal Gallois at the Boyer College of Music and Dance at Temple University in 2007; Seasons premiered by the award-winning Cavani Quartet in 2007; Three Haiku commissioned by the Beck Center Children's Choirs and premiered in Lakewood, Ohio in 2007; The Edmund Fitzgerald, a piano concerto, premiered by the Sault Symphony in Ontario, Canada in 2005. His Sonata for Solo Oboe has been performed by the principle oboists of the National Symphony, Baltimore Symphony and the Sarasota Orchestra. His music is published by Theodore Presser, Tenuto Publications and Cimarron Music Press. He is a member of the Cleveland Composers' Guild.
Website: https://soundcloud.com/geoffrey-peterson
---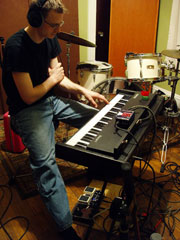 A percussionist of 23+ years, Ron Tucker has performed throughout the Midwest and East coast. Throughout his professional career, Ron has performed drum set, vibraphone, percussion and keyboard instruments for a diverse variety of rock, electronic, experimental, jazz, chamber and country groups and ensembles including Infinite Number of Sounds, Trepanning Trio, Racermason and Lost State of Franklin. He has also performed with multi-media performance ensemble SAFMOD.
Now living and working in New York City, Ron leads the Brooklyn-based pseudo-classical percussion group, Ensemble, et al.  He also performs, composes and records drum set, percussion, keyboards and programs beats and loops for indie-rock group, City Breathing while also occasionally performing with electro-pop outfit Beautiful Small Machines.
---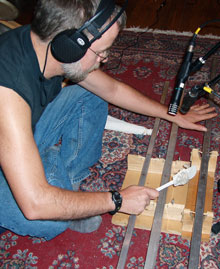 There are two Bob Drakes who build experimental instruments, play banjo, and have a penchant for improvised/avant garde musics. This is the one who used to play in the Whistle Pigs from Zenar and Red Dark Sweet, not the one from Thinking Plague and 5UUs. Former luthier, soundpoet, micropress publisher, and intermedia artist. Current projects include Fluxmonkey (with wife Kristen), building analog synths and electro-acoustic installations, and ultramarathons. He has a Cat named Spot, and two Excellent Daughters (each of whom has their own name).
Website: www.fluxmonkey.com
---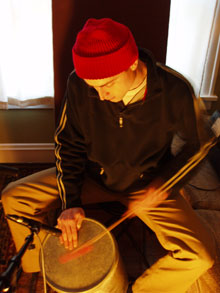 Andrew Ludick is an artist living in Ireland where he runs a pottery with his wife Rosemarie. After graduating from Columbus College of Art and Design in 1999 he became very interested in music and its relationship with visual art. After taking up drum set he began to explore other percussion with African origins. At the present he is in a samba band in Ireland called Visto Pena where he is exploring Brazilian music. As well as a variety of percussion, Andrew also plays piano, didgeridoo, and ukulele.
Website: www.rosedurr.com
---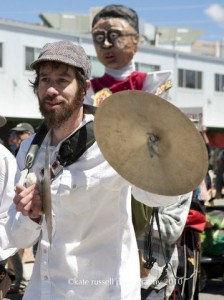 Jeremy Bleich incorporates a wide palette of culture, ancient and modern instruments, traditions and forms as well as electronic manipulation into the creative process of composing, performing and recording music. His approach to the electric bass and the oud have earned him a reputation internationally as an innovator. Jeremy is focused on producing music that captures the essence and meaning behind the process of creating it. He resides in Santa Fe, New Mexico where he is involved with presenting new music, as well as composing and teaching. He holds a degree in music composition from Cleveland State University.
Jeremy is a member of the critically acclaimed group birth and has performed and/or recorded with Coung Vu (Pat Metheny Group), Joe Maneri, Jeff Coffen (Bela Fleck), Chris Jonas, Carmen Castaldi (Joe Lovano), Brook Martinez (barky!), Kevin McCarthy and Nashville songwriters Rick Elias (Ragamuffins) and Jason White. He has played the oud in collaboration w/ Mustafa Stephan Dill (SAMA trio), Andrew Stoltz (laptop musician/composer), and Rahim Alhaj (Iraqi oudist). He has recorded for MCA Records, Hopscotch Records, High Mayhem and Infinite Number of Sounds Recording Company.
Website: www.jeremybleich.com
---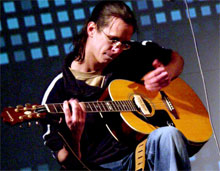 Tyler Horter currently resides in Cincinnati, Ohio, spent a number of years in Cleveland, Ohio, and picked up the guitar while he was in high school. There were a few lessons here and there, but he's primarily self-taught. Over a decade later, guitar remains his primary instrument, but he's gotten his hands on a few others – mostly with fretboards – along the way. He dabbles on banjo, bass, and piano, makes use of both the acoustic and electric guitar, and sometimes fools around with noise in his spare time. He's been in and out of a few bands over the years, but his currently active projects are Ancillary and Science of Shape.
Websites:
http://www.ancillarymusic.com/
http://www.scienceofshape.com/
---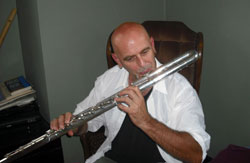 Michael Billings is a composer and performer who when not composing or playing writes poetry. In the past, michael has underscored theater productions and played with krawling for a walk and vision ensemble as well as performing solo or accompanying local poets.
Having been published in the past and undeterred by rejection (the letters make wonderful wallpaper), Michael continues to write and submit poetry, occasionally participating in local poetry readings. He holds a BA in history with a minor in English from Cleveland State and a MLIS from Kent State. Michael currently works at Lakeland and Lorain County Community Colleges. He and his two daughters (the loves of his life) reside in Lakewood.
Websites:
http://www.myspace.com/mtfraze
http://www.myspace.com/krawlingforawalk
---
Clayton Vaughn was born in Mississippi, where he began studying the cello under the instruction of Debbie Gum at the age of ten. In 1998, Clayton began private studies with Paul York, who was teaching at the University of Southern Mississippi. Clayton also attended the Sewanee Summer Music Festival, where he spent the majority of his high school summers.
In 2000, Paul York left USM and moved to the University of Louisville. Clayton spent the next two years studying with Deiter Wulfhorst and Alexander Russakovsky. He was also a member of the Meridian Symphony Orchestra and the Tupelo Symphony Orchestra. After graduating from high school, Clayton went to the University of Louisville to continue his studies under Paul York. He became interested in Jazz at this time, but Clayton did not have an interest in playing jazz cello. During his sophomore year, he began studying double bass in addition to cello to satisfy his desire to play jazz. He graduated from the University of Louisville in December 2006 with a Bachelor of Arts in Music and Humanities.
Clayton is currently attending the Cleveland Institute of Music where he plans to earn his Master's degree in cello performance. In the future, Clayton plans on continuing his studies before pursuing a professional career
---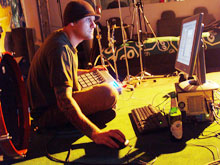 Brent Gummow helps make the computers at INS Rec Co. work and provides all around technical support as well as co-owning/managing the label. Oh, he also tries to show people the pictures in his head. He created the website and album artwork for the Trepanning Trio project utilizing selections from David's artwork. Brent also attempts to capture the vision and texture of the music by manipulating video live during performances. He currently resides in San Francisco, California.
---
---